A Free Spin Frenzy at The Sun Play casino
The Sun Play has a few surprises for its players this month, one of which is the Free Spin Frenzy promotion that brings extra bonus spins on selected days throughout June 2018. There are 20 and 50 Bonus Spins that players can receive upon depositing a certain amount on any of the following days: 1st, 5th, 8th, 12th, 15th, 19th, 22nd, 26th, 29th of June. Deposit anything between £20 and £39 to receive 20 bonus spins, or choose to deposit at least £40, and you will be playing with even 50 bonus spins. The free spins will be available on the "Football: Champions Cup" slot, another classic from Net Entertainment, that is likely going to prepare you for an upcoming sports event: the world cup in soccer. Of course, the Free Spins Frenzy is but one of many promotions that are currently hosted by The Sun Play casino, can you can still claim whatever bonus offers were or will be provided for this, as well as the months that follow.
The best part about all this, is that even if you are not going to take part in this campaign, you can play whatever games you like, as there are heaps of slot machines, among which you can find your favorite one. Slots and bonuses will keep you playing for many long hours, so if you wish to become part of casino The Sun Play – then you can do it right now. General terms and conditions will apply of course, but you can find them all neatly compiled and listed on the official casino website belonging to The Sun Play.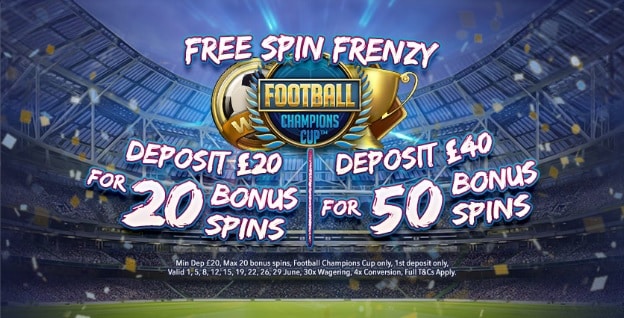 Campaign: Free Spin Frenzy
Days: 1, 5, 8, 12, 15, 19, 22, 26, 29 June
Deposit between £20-39: 20 Bonus Spins
Deposit £40 or more: 50 Bonus Spins
Slot: Football: Champions Cup
Wagering: 30x
Enter: The Sun Play