Happy Hour: 20 spins from casino Black Spins
Black Spins casino is one of the latest arrivals on the digital gambling scene, and it certainly is one of the greatest online casinos out there to stick with. Especially since it's a great source of annual promotions, like the Happy Hour event that is about to hit this month. The Happy Hour is but one of many bonus offers that casino Black Spins is going to offer, so if you happen to be interested in taking part in many other campaigns like this one – then you should probably head to the BlackSpins website; which is where you will find more information about how to participate in any of those promotions. Once you create a player account and settle in for good, you may want to check what limited time offers are currently available. As usual; general terms and conditions may apply.
One of these will be the Happy Hour promo, during which everyone is able to receive 20 Spins for depositing only £20. This sounds like a real deal, and all members of the BlackSpins casino program should at least consider popping in from time to time, and getting their fair share of bonus spins. This offer is going to return throughout the whole month, valid exclusively on such days as April the 1st, 8th, 15th, 22nd, and 28th. The bonus can be acquired only once per day of this promotion, and all free spins acquired during this campaign will be provided on the video slot called "Asgard". Winnings are subject to a 20x wagering requirement.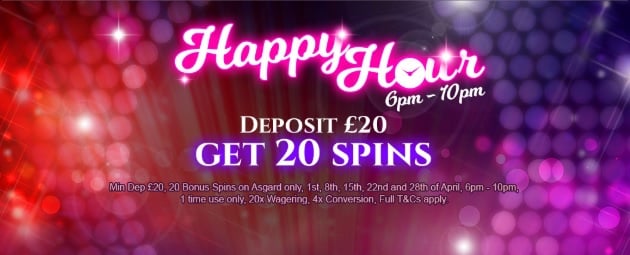 Promotion: Happy Hour
Active: 1st, 8th, 15th, 22nd, 28th (April)
Duration: 6pm – 10pm [18:00-21:59]
Valid: 1 time use only
Game: Asgard
Wagering: 20x
Enter: Black Spins