Jimi Hendrix – new video slot from NetEnt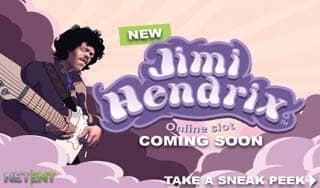 The next video slot that is coming out of the NetEnt studio, would be featuring the next music icon, namely Jimi Hendrix. After Guns N' Roses, Net Entertainment has announced that it will be creating two additional slot games based on legendary rock musicians, being Jimi Hendrix and Motorhead. On the 22nd of April 2016, online casinos around the world wide web are going to witness the premier of an audio friendly video slot game, where one of the best guitar players ever to live can show his entire collection of songs and ballads. Though the life of this rocker has been cut short, he will never be forgotten thanks to the legacy of sound that he has left behind.
There are many popular songs which can be put to this game and one can only hope that there will be all the classic ones, to fill the gameplay with a nostalgic atmosphere of the past. Although there are not many resources as of yet, showcasing the actual display of the slot machine as well as any of the animated features that are sure to be part of the action, as this is a NetEnt video slot after all. It is probably so because the company wishes to maintain all of the best about this game and leave it for later, as soon as it hits the online casinos. That is certainly understandable and the fans can already count the days until the next game is going to be released on the market. The genre of slots that base around popular music and iconic rock & roll bands have proven to be really popular with both casual as well as hardcore players, making the gambling activities even more welcoming than usual. The upcoming video slot is sure to bring a hell lot of excitement, thanks to not only the nicely done visuals, but most of all that it will revolve around Jimi Hendrix himself.
Screenshot: Jimi Hendrix – Netent Video Slot, Coming Soon 22.04.2016