Join the Christmas Madness at Chanz Casino
Chanz has just begun its Xmas campaign, commonly known as the Christmas Madness promotion, which represents the dire situation that has occurred at Chanz casino. Santa Clause is nowhere to be found and without him, the Xmas season cannot be officially announced. It is up to you and all the rest of players to locate this current location, by searching the website and collecting specific badges that will qualify you further for receiving badges for this task all along. They have been hidden quite well in all the random places and you will have to gather at least 24 of them to participate in the raffle, which is going to be hosted by the online casino really soon.
If you got what it takes to achieve this, then you may win €2500 to Travel-Round-the-World, much like Santa himself. Plus, top five runners-up are going to receive 100 Free Spins on their favorite casino games, which is quite the encouragement needed to do this. Keep your eyes wide open for any badges that might appear on the pages of casino Chanz, especially a free spin badge that is going to credit you with free spins on one of the selected casino games. If you wish to get an extra raffle ticket, then make sure to share this event through your Facebook account, as that will ultimately give you even more bonus rounds to appreciate during the Christmas Madness promotion, so do not waste any more time and take part right now.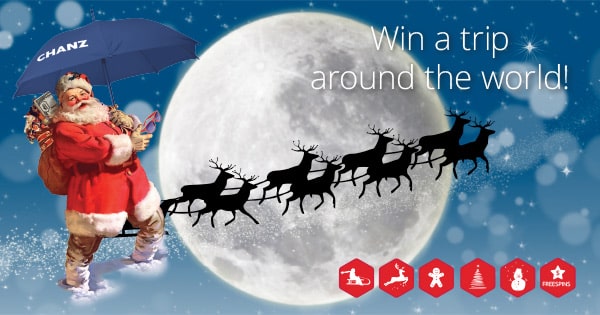 * All winnings generated by free spins are credited in the form of real money
* The free spins badge will become available only to those who have previously deposited €10
* A deposit like that must have been made in the past 60 days, during the promotion
* More information can be found on the page dedicated to this particular event
* This campaign is going to take place during the 1st and 24th December
* General casino terms and conditions are going to apply
Enter: Chanz Casino