Kerching Casino: Cash Win Boost + Spins
Kerching is the sound made by an opening cashier, commonly associated with the stage when one is about to get paid or win some undisclosed amount of money; maybe a small fortune even. It's also the name of a popular online casino, where the players can earn themselves a lot of coins just as well – which is already quite promising in terms of even further expanding their gambling portfolio, and steadily building up an account balance. The chips and spins earned or purchased there, can be used on playing amazing games, but of course there are lots of other ways that could still give the customers a proper welcome into the lobby.
Casino Kerching is about to launch its next campaign: the Cash Win Boost + Spins – which is exactly what it sounds. Win a quick cash boost or loads of free spins, and stick throughout the weekend to collect as many of those as you possibly can. It always comes down to the type of gaming products one is able to gain, but there are still many other exclusive offers that only members of the VIP club will be able to activate. The Cash Win Boost + Spins on the other hand, is available to everyone who has an account with the Kerching casino program – the best source of boosts, free spins and other fancy bonus offers. Terms and conditions may still apply.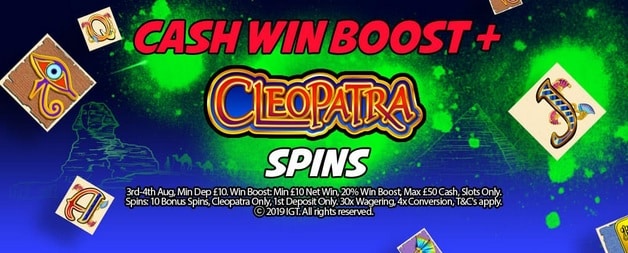 Promotion: Cash Win Boost + Spins
Active: 3rd-4th August 2019
Minimum Deposit: £10
20% Win Boost: £10 Net Win
Maximum Boost: £50 Cash
Max Spins: 10 Bonus Spins
Game: Cleopatra
Wagering: 30x
Enter: Kerching