Scruffy Duck New Video Slot – 11th May 2017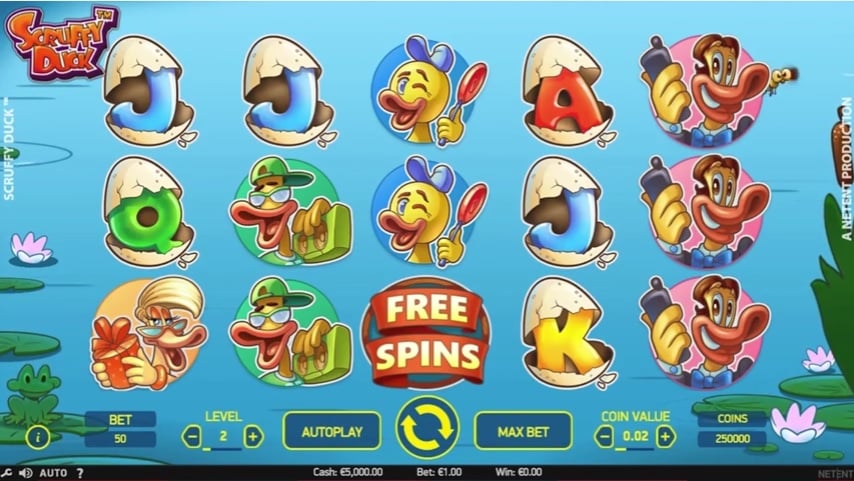 Scruffy Duck is a new video slot game being currently developed by Net Entertainment, introducing a modern twist to the old story about the ugly duckling and its tribulations. This online slot will become available already on the 11th of May this year, so you can already prepare to meet it head on at any casino powered by the NetEnt software. Offering a bunch of gratifying bonuses, the game features unique animations and a friendly interface that many players are going to appreciate. Bet levels and coin values are a useful setting for the preferences, thus making the experience suitable for everyone.
Revolving around a family of ducks, the action takes place at a nearby pond where all of the animal characters tend to their everyday lives. Scruffy Duck is going to be a perfect casino game for those who do not have any prior experience with online slots, thus serving as an introduction to the gaming industry as it is. With bonuses like Free Spins, Wild Substitutions and Stacked Symbols, the video slot will be quite entertaining and full of additional rewards for the winners. The game consists of 25 lines, 5 reels and 3 rows, a regular setting that can be easily modified. It can never hurt to try the slot in its free play mode, which provides a demo of the gameplay, without the need to spend any coins. Due to its brightly colored graphics and a chilled out soundtrack, it would be a very satisfying journey for all the fans of casino games out there. Be sure to check with your favorite online casino in a couple of days, because the slot arrives really soon.