The Great Rizk Casino Free Spins Robbery
Rizk casino is known for its superhero theme and a unique take on the gambling experience, which is only complimented with the wheel of fortune promotions or interesting online campaigns, much like the one that is happening at casino Rizk right now. Captain Rizk and his best pal Lucky have sealed 600 Free Spins in the casino vault, encouraging the players to take their chances at trying to break into it and grab as many free spins as they can. Be wary though, because the dynamic duo are always aware of what is happening at Rizk and will be on your trail in no time, which is why you have to give it all to just try snagging the free spins from right under their noses.
Return to the online casino between the 11th and 30th of September, in order to collect your rewards on every first level up of the day. You can make it out of the vault with a total of 30 free spins in one swoop; with 10 free spins added immediately to your account, and the next 20 provided in portions of 10 for the next two days at noon. All of the rules applying to this promotion had been stated on The Great Rizk Casino Robbery page, so you can check them out at any time you want and opt in for the following promo.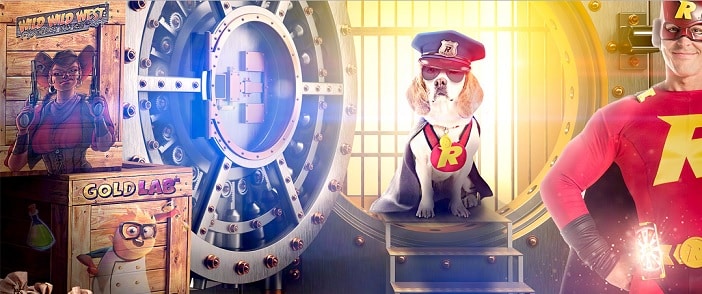 * The Great Rizk Casino Robbery runs between 11th and 30th of September 2017
* First level up of the day will award you 30 free spins
* 10 free spins are credited immediately, while the next 20 on the following days
* Each bonus is valid only for a limited period of time: 24 hours
* These spins can be used to play either Wild Wild West or Gold Lab
* A maximum amount of free spins that one player can receive in this promo is 600
* Winnings will come without any wagering requirement
* Further terms and conditions may still apply
Enter: Rizk Casino