The Wild Wild Spins promo arrives at Tiny Slots
Tiny Slots
casino has prepared a couple of special promotions, featuring plenty of the additional free spins that just about anyone can use, available only for the duration of this month. Visit TinySlots on certain days and make a qualifying deposit to unlock a couple of free spin bonuses, which are credited straight to your account. The actual number of bonus spins depends on how much a player is going to invest prior to receiving them, which means that you get 10 Free Spins for depositing at least £10 but no more than £19. Get 20 Free Spins by depositing any amount between the threshold of £20 and £49. If you want to get the largest amount of spins – then deposit at least £50, which results in 50 Free Spins in the end, more than anybody would hope to play with somewhere else. The game featured in this particular offer is "Wild Wild West: The Great Train Heist", which should prepare you for an exciting online adventure, full of dangerous missions and fun on the western frontier. Saddle your horse and holster your weapon, because it is going to be a wild ride indeed. Check in with casino Tiny Slots on any of the following days:
2nd, 9th, 16th, 23rd, 30th October
, as this is exactly when the bonuses can be acquired. You can find all the terms and conditions that you need on the TinySlots promo site.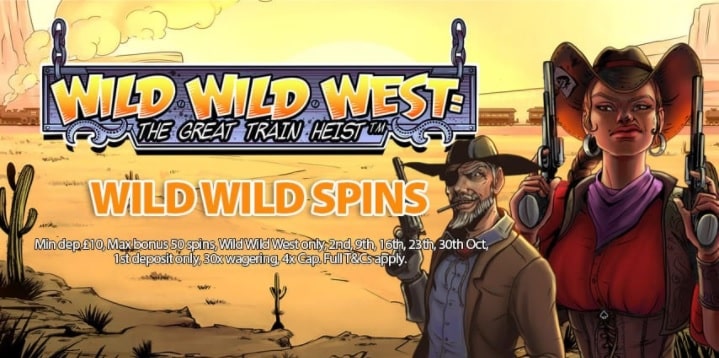 Deposit between £10 – £19: receive a bonus of 10 Free Spins Deposit between £20 – £49: receive a bonus of 20 Free Spins Deposit a minimum of £50: receive a bonus of 50 Free Spins
Enter: TinySlots