Vikings – November 22nd (2018)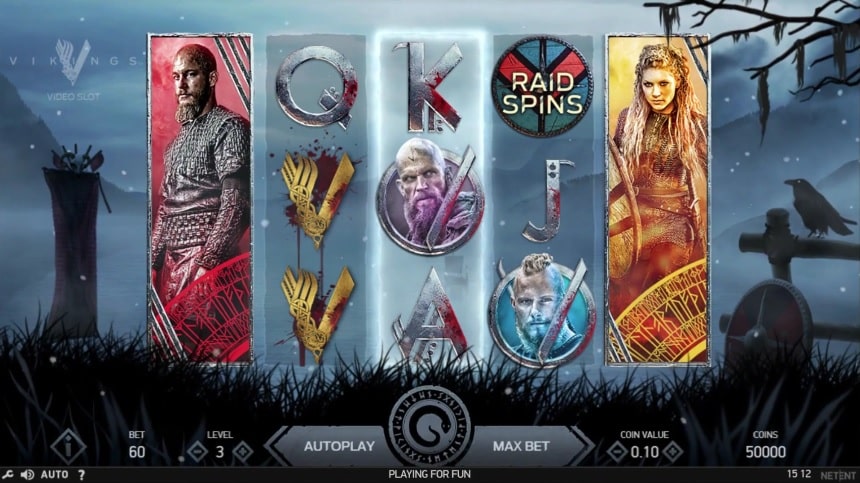 Vikings is the new video slot from NetEnt that is being developed right now, planned for release on November 22nd this year. The game has been based on the History channel's original series: "Vikings", a tale of the warrior tribe of Viking clans and their raids on England and France during the medieval Dark Ages. The endless battles fought between the Nordic clans and other regions of the world, are going to be showcased in this epic saga.
Those who are fans of this television show, should be eager to play this exquisite new game, as it's going to feature all the main protagonists and other characters from the storyline. It will bring the reels back to life and fill them with unique bonus features, like the Shield Wall or Raid Spins, plus Hotspots and all kinds of additional goodies. The Raid Spin feature will transform the standard 3-row / 5-reel setup into a 5-row / 7-reel area, maximizing the betways from 243 to 78125. The hit TV series will be now accompanied by its video slot companion game, which Net Entertainment is planning to release before the end of this year. The 22nd of November 2018 marks the date of the launch, and Vikings are going to arrive at your favorite online casino that is currently powered by the Net Ent gaming solution. The casinos have never witnessed such battle fervor like this before, and they are going to bring the world of the Dark Ages back to life, thanks to this new exquisite slot – from one of the best gaming studios.