Visit The Sun Play for an Ocean Magic Prize Draw
The Sun Play has brought another one of its amazing prize draws, featuring a new game: "Ocean Magic". Plunge into the deep blue ocean and let yourself be immersed by the stunning visuals of this fantastic video slot. Every £20 that you successfully wager on the Ocean Magic will grant you an entry ticket for the upcoming prize draw, which is going to take place as soon as this promotion concludes. The Sun Play casino is more than willing to help you register if you are not an official member yet.
There are are such prizes as the total of £3000 + 2000 Bonus Spins, so make sure to join as soon as you can, because there is quite a lot happening right now. The Ocean Magic Prize Draw runs between the 16th and 22nd of November 2017, but make sure to check out the full terms and conditions that were brought along with this spectacular competition. You can score as much as £1500 in cash, so hurry up and qualify for this online promo by TheSunPlay casino. There are still a few days left, which means that you are able to enter the prize draw – only by playing the Ocean Magic and wagering a few coins here and there to collect as many tickets as possible.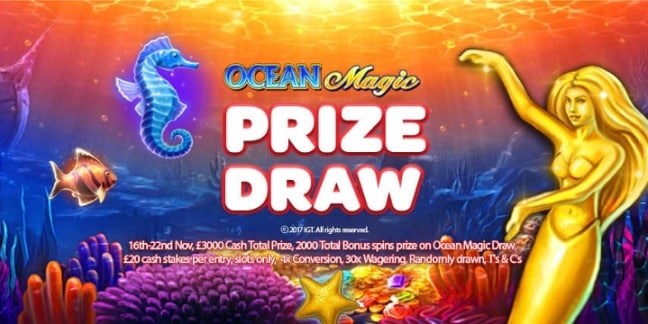 Ocean Magic Prize Draw: 16th-22nd November
Featured Game: "Ocean Magic"
Prizes:
1st: £1,500
2nd-5th: £125
6th-15th: £50
16th-35th: £25
36st-100th: 20 spins
101th-150th: 10 spins
151st-200th: 4 spins
Enter: The Sun Play